Neem Soap with Karanja 4.2 oz - 3 bars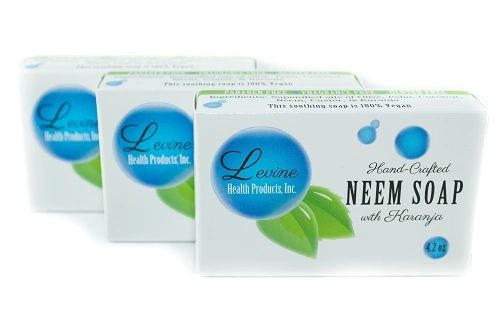 Neem Soap with Karanja 4.2 oz - 3 bars
Neem Soap with Karanja Oil 4.2 oz.
Levine Health Products' Neem Soap is handcrafted in Washington State using premium quality unrefined ingredients from Mother Nature and blending them into a product that is guaranteed to please you. Use this gentle soap to gain and maintain healthier skin. Lather up with Neem Soap before gardening, fishing, hiking or boating to help ward off pesky insects. Neem soap is vegan, gluten free and has no added fragrances or preservatives.
Levine's Neem Soap is a proprietary blend of the following ingredients:
Neem Oil
According to Indian mythology the neem tree originated from drops of nectar from heaven. In India, neem leaf wreaths are placed on doors and neem trees are planted near homes to ward off insects and bugs. Neem oil is recognized as a non-toxic insect repellant. It contains more than 25 active compounds that combat insects.
Neem has antibacterial, antifungal and anti-inflammatory properties. Neem has been used in Ayurvedic medicine for skin conditions for centuries. It aids in the treatment of acne, dandruff, athlete's foot and psoriasis, as well as many other skin problems. It is soothing and moisturizing to healthy skin.
Karanja Oil
Karanja Oil (Pongamia glabra) is pressed from the seeds of the pongam tree. We added karanja oil to our neem soap because karanja oil also has insecticidal properties that make it a natural bug repellant.
Karanja shares antibacterial, antifungal and other properties with its relative neem. Karanja is used to help in the treatment of many skin conditions such as eczema, psoriasis, skin ulcers, and dandruff. It also may promote wound healing.
Castor Oil
Castor oil is a thick, clear oil that helps increase the lather in soap. It's also a humectant (attracts moisture to your skin).
Coconut Oil


Coconut oil gives a bubbly lather to your soap and aids in making soap bars hard.
Olive Oil
Olive oil has been added to our neem soap for its moisturizing properties. Olive oil contributes to the firmness of the bar and increases the lather effect.
Palm Oil

Palm oil helps create a hard bar of soap with a rich, creamy lather. Our formula uses a combination of palm, olive, coconut and castor oils to make a wonderful, soothing, long lasting soap.
Disclaimer
Neither the information nor the product and ingredients mentioned are intended to diagnose, treat, cure or prevent any disease. Consult your health care provider for medical advice on using this product. Check with your doctor before using this or any other product for children and/or women who are trying to get pregnant, are pregnant and or are nursing.

Featured Products